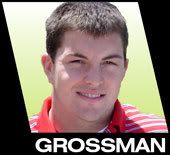 Mike Shanahan said that when Rex Grossman is signed and in camp he will compete with John Beck for starter at quarterback. There. Coach Shanahan said two words no NFL coach wants to say, "quarterback competition." That is always bad. That means neither quarterback gets all the practice snaps with the first team they need to perfect timing and precision. Pro football is all about timing precision.
Shanahan never said that Beck was the starter. He said he liked the kid. John Beck never said he was the starter. He said he had to prepare as if he was the starter. The coach, Beck said, promised him a shot to start. The sports media should stop calling Beck the starter and wait until this plays out.
Shanahan said of Beck and Grossman "I've been doing this for a long time, and I'm putting my reputation on these guys that they can play." Words to be remembered by. No pressure on Beck and Grossman. Shanahan is a strong candidate for the Football Hall of Fame. It's a sort of gimme when you've won two Super Bowls. Beck's or Grossman's performance will influence when Shanahan is inducted. It gives HOF voters something to think about when Shanny's name comes up. When they have to think, they delay.
Shanahan described at some length his approach to Donovan McNabb. Shanahan sat with McNabb early on to give his assessment of why Andy Reid dumped him (Shanahan's word) and how McNabb could improve as a player. If that happened, McNabb has been silent on the issue, then it is a credit to the coach that he followed a well-established management practice to share with the employee where he stands and what is expected of him. McNabb did not meet those expectations and was given notice after 13 games. It's a sign of poor management if under-performing employees are surprised when they are fired.

McNabb accepted his fate with class. As a reward worked with the Redskins to find a better situation—on a team with Adrian Peterson, an established O-line and the No. 8 defense last season. Shanahan said that a lot of thought went into the decision to trade for McNabb, did not answer whether he regretted the decision and would not go into specifics how McNabb failed. A lot of thought? Yes. Wrong-headed thinking? Yes.
Bill Romanowski, who played for Shanahan in Denver, said Donovan McNabb was a lazy player who got under Shanahan's skin. As widely commented on the Twitterverse, where does a guy who took steroids get off calling a player lazy? Romanowski did put his finger on something about the Shanahan-McNabb marriage. Both men came together with strong achievements behind them. I suspect both had strong ideas on how to achieve their next success. In McNabb's case, he might not have bought into the idea of "improvement." Neither man was adaptable enough to make this a strong partnership. Failure in equal measure to both sides.
We learn more from our mistakes. Maybe both will grow from the debacle.
Safety OJ Atogwe will wear jersey No. 20 as a Redskin out of respect for the late Sean Taylor. Atogwe wore No. 21 as a pro as did Taylor in his last season with the 'Skins. That will go over big with fans.
Rookie running back Roy Helu (Nebraska) was seen at practice wearing jersey No. 26, Clinton Portis' number.
No. 1 draft choice Ryan Kerrigan suffered a hyper-extended knee and a bone bruise in the morning workout. He missed the afternoon workout and will be out for "a couple of days." Mmm, coachspeak for a couple of weeks?
Safety LaRon Landry (Achilles) was placed on the physically unable to perform list as was LB Robert Henson (knee) and Kareem Moore (knee). Caution is advised for Landry. It's not as if he is fighting for a starting position. Moore needs all the practice time he can get to impress DC Jim Haslet now that OJ Atogwe is on the roster.
Mike Shanahan revealed that he would have released Albert Haynesworth if the Redskins hadn't worked a trade with the New England Patriots. Everybody bought into the dumb idea that Shanahan would hold on to Big Al so that he wouldn't "win" in free agency. I call that a big gotcha on the media.
Vinny Cerrato says he would sign Haynesworth again if the 'Skins were in the 4-3 defense, but not if the team was then playing the 3-4. I want to say that's why Cerrato is out of pro football, but then Bill Belichick goes and trades for Haynesworth. It's as if Vinny and Bill are one. (GAH!) The difference is that Belichick did not guarantee Haynesworth $41 million. Haynesworth alone did not ruin Cerrato's reputation. GMs are wrong about players sometimes. That contract is why Cerrato will never again be a GM.
The Redskins re-signed exclusive rights free agent CB Byron Westbrook. The Redskins signed LB H.B. Blades to a one-year deal.
Hog Heaven readers have been searching the site for news about Mike Williams, the tackle/guard/center friend and Texas Longhorn teammate of Derrick Dockery. Williams, you recall, weighed 410 pounds when he joined the Redskins in 2009. He lost 70 pounds to play on the offensive line, but struggled after being out of football for two years. Mike Shanahan extended his contract for two years in March 2010. A blood clot near his heart caused Williams to miss the entire season.
With Casey Rabach released, I wondered how Williams' competition with Kory Lichtensteiger and Will Montgomery for starting center would go. I asked via Twitter CSNWashington's Rich Tandler and NFL.com's Ed Sheahin whether Williams was on the field at training camp. He was not. Both Tandler and Sheahin suspect Williams is done here, though he is still on the team roster.
Sorry, Mike Williams fans. It's not looking good. Even if Williams were perfectly healthy, he would have long odds to make the team. Williams profiles as a straight-ahead blocker in the mold of the original Hogs. Mike Shanahan's zone blocking scheme calls for linemen who of lighter, quicker and more mobile like G Chris Chester who joined the team yesterday. We don't know how Williams fits until he practices, but I suspect the team will move on from Williams as they did with his friend Doc.

UPDATE: Rich Tandler and John Keim tweeted Saturday afternoon that the Redskins released Mike Williams. Keim added "that Mike is still dealing with the blood clots and wasn't in position to play. too bad; good guy & a good story."

Redskins free agent DB Phillip Buchanon Tweeted Saturday that he is negotiating with the Redskins, New York Jets and Arizona Cardinals on a new contract. Buchanon signed a one-year contract with the 'Skins at the beginning of last season.
One day after the start of free agency and the Vegas sports books have already come out with the lines for wins by NFL teams. The over/under for the 2011 Redskins is 6.5 wins. Take the over. And no, I am not liable for any losses you incur. I'm no gambling tout so you should follow your own counsel. (My lawyer made me put this in.)
The over/under for the Cowboys and the Giants is 9. It is 9.5 for the Eagles. And that was before the Eagles signed S Nnamdi Asomugha.