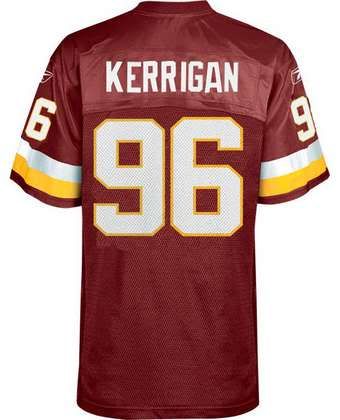 Rookie first round draft pick Ryan Kerrigan missed his fourth day of practice because of a bone bruise and hyper-extended knee. He is day-to-day.
Newly signed ex-Eagles punter Sav Rocca is Australian. Issues with his visa are delaying his arrival at Redskins Park.
NFL Rent-a-Kicker Shayne Graham signed on with the Washington Redskins to push incumbent place kicker Graham Gano to better performance, or else. Graham (Shayne) played for nine teams in 10 seasons, but spent seven of those years with the Cincinnati Bengals where is best remembered. He made 86 percent of his field goal attempts.
Graham (Gano) converted 69 percent of his field goal attempts in 2010. The Redskins lost five games by three points or less last season.
Veteran free agent Phillip Buchanon expects to rejoin the Redskins after testing the market with other teams. Buchanon tweeted that he worked out with the New York Jets earlier Monday.

UPDATE: Buchanon re-signed with the Redskins Monday evening.
The Redskins were one of several teams rumored to be in discussions with the Jets for a trade of WR Jerricho Cotchery. Nice try. The Jets placed Cotchery on the Physically Unable to Perform list Monday evening. Cotchery is recovering from back surgery for a herniated disk.
Speculation has quieted that the Redskins are in the market for WR Braylon Edwards. The Jets No. 2 receiver seems toxic to most teams, either because of off-field issues or his contract demands, or both. There has been absolutely no talk connecting Edwards to the 'Skins which may be proof that something's up, to use Donald Rumsfeld logic.
Of all the components of football, unit cohesion is a must for the offensive line. Continuity is a critical success factor for that group. With RT Jammal Brown's return to the team, four of the five linemen projected to start for Washington are carry-overs from last year's team.
G Chris Chester is the newcomer to the group, but there's positive news there. Redskins O-line coach Chris Foerster thinks Chester is a good fit.
"Chris fits the mold for us as far his footspeed and quickness for what is needed from the guard position," Foerster was quoted as saying in a story by The Washington Times.