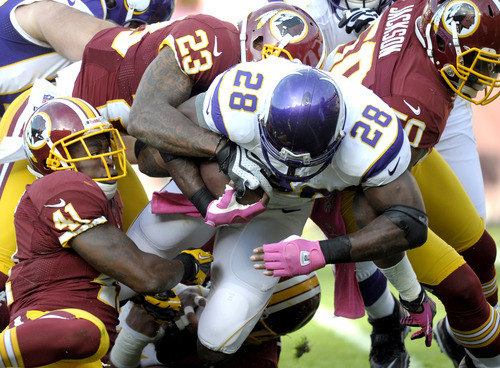 Redskins Hog Heaven enjoys the back and forth with our Bloguin colleague Purple Jesus Diaries who blogs the Minnesota Vikings, often in a profanely funny way. For the fourth time in as many seasons, we ask PJD about the Vikings. We also answered his questions about the Redskins. Click HERE to go and see.
1. How do the Vikings determine their quarterbacks? Names from a hat? Throw darts at pictures? Draw straws? Astrology? It's unfair to put opponents through this guessing game.
A1. Largely, it's whoever passes the concussion test between Christian Ponder and Josh Freeman. With those two competing for the starting position (and when I say competing, I mean "competing" like when two Canadians fight over a metro seat ... "No you have it" "No you, aye?" "No, I insist"), and the future of Minnesota Vikings quarterbacking, Matt Cassel is essentially out of the picture. Ponder befuddled everyone by playing poor to mediocre last week against the Cowboys (as opposed to plain "awful" or "cringe-worthy"), and he's been in the offense for his entire career, so he still has a leg up on Freeman. Regardless, he's still gone at the end of the year.
Christian Ponder puts Minnesota home on the market http://t.co/A6UPeEWq15

— Anthony Brown (@SkinsHogHeaven) November 4, 2013
1a. Why did Bret Favre turn you down. I just know the Vikings called him.
A1a. He was waiting for Rodgers to get injured so he could re-sign with the Packers and lead them to a glory Super Bowl. Then take his earnings and buy a bunch of pain pills.
2. Quarterback confusion is a sure sign of front office in-fighting. Who's winning control of the Vikings future?
A2. Rick Spielman, Vikings GM, which is a bunch of crap. Before coach Leslie Frazier was around, the Vikings were managed by a "Triangle of Authority" which was a dumber version of the Illuminati. It included then-coach Brad Childress, then-player personnel guy Spielman, and some other moron I forget. It failed miserably. Since then, Spielman became full on GM, and has done an on-paper decent job of assembling talent. Draft picks were largely panning out, and there weren't ridiculous free agent signings that were needed. Plus, a youth movement was happening successfully.
But you still need a quarterback, and that's been Spielman's downfall. The Ponder pick-up (and Freeman signing, actually) both fall on him. I think if neither pan out and he has to start from scratch in the draft, he shouldn't get the opportunity. He makes his moves in the shadow (in comparison with Frazier on the sidelines, at least), and is getting more of a pass on the hot seat because of it.
Personally, I'd rather see Frazier stick around and Spielman get fired, but they are likely a pair firing. Until that happens, Spielman will mostly be making the shots of who to bring on the team, Frazier will coach who he's given like a good soldier, and will bite his tongue instead of saying "I told you so" when Freeman plays awful.
3. Minnesota's formula of success was the strength of the pass rush and the legs of Adrian Peterson. What happened?
no comments