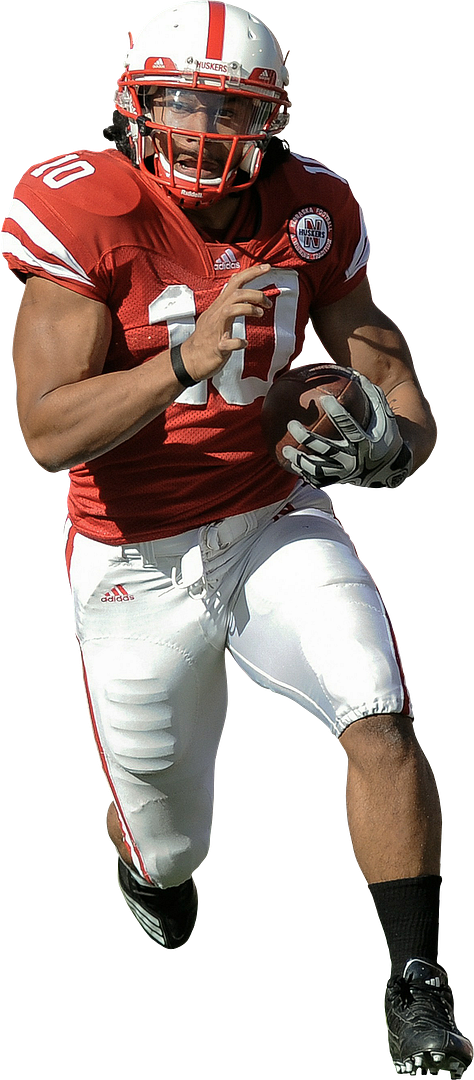 Mike Shanahan's uncanny knack for finding overlooked running back stars makes me enormously hopeful about Nebraska tailback Roy Helu.
Shanahan's running back reputation is built on a small sample—Terrell Davis, sixth round, 1995 Draft, and Clinton Portis, second round, second round, 2002 Draft. Lets overlook that third round, 2005 Draft pick of Maurice Clarrett, now with the UFL's Omaha Nighthawks. (More on that later.)
I am old school. Thus, I still think teams that win are teams that run. Who Coach Shanny picked in the Draft and the order they were selected are pointers to the Washington Redskins next running back star. Shanahan put his chips on Helu over Penn State's Evan Royster. Royster is this year's Marcus Mason Award winner—the local boy you hope makes the team.
Both Helu and Royster have the size and weight for a West Coast Offense back, around six-feet, 215 pounds. Clinton Portis is 5-11, 219 pounds. An eight-minute YouTube video of Helu shows a rusher with breakaway speed. It also shows an oddity. Of the 36 rushing plays I charted in the highlight, 26 were Helu rushing between the tackles. You tend to think of a West Coast back as more of an edge rusher, Like Portis in Denver, and more of a receiving threat out of the backfield.
Whether Helu rushed through the middle because that's what he's good at, or because that's the way Bo Pelini used him at Nebraska is hard to tell from a distance. Once he got past the line, Helu was faster than any of the college linebackers and defensive backs facing him. That speed was evident at the NFL Combine.
NFL Draft Scout and other services projected Helu as a middle-round selectee and a back-up rusher in the pros. Draft Scout touted his breakaway speed in the open while noting that he did not run with the power of a true inside rusher. They noted his poor pass blocking skills, the very thing that cost Marcus Mason a roster spot.
We fans invest our new players with more hope than reality dictates. My hope is that Shanahan sees something in Helu that could make him special.

Hope for Helu or Royster will not let me get carried away with them. Shanny will use them, along with Keiland Williams and Ryan Torain, as a nefarious running back committee. That could work in 2011, though it won't make Shanahan polular with fantasy footballers.
Points after: Helu got a hair cut for his pre-Draft interviews, as anyone out of college should do for the sake of his career (see Kerrigan, Ryan). I would have been OK if Helu kept his flowing locks, a la, Troy Polamalu. Can you say Roy PolaHelu?
I'm having fun with Helu's name and his (suspected) shared heritage with Polamalu. So sue me. I would love ito make better on-field comparisons with Polamalu. We won't get to see the possibilities until the lockout ends.
At Nebraska, they called him Roy Helu-Goodbye. That works, too.
The Omaha Nighthawks are the second best team in Nebraska after the Cornhuskers. That's no put-down of the Nighthawks. People in the Cornhusker State would agree. Here's why. The NFL does not want anyone in the UFL. They love Cornhuskers.
I need not remind Redskins fans of DL Ndomukong Suh. Prince Amukamara (Giants) rivaled Patrick Peterson in pre-Draft interest in cornerbacks. Washington drafted three Cornhuskers, Helu, WR Niles Paul and S DeJon Gomes.
Pelini recruited quite a crew to Nebraska. I'm starting the rumor that the quarterback Mike Shanahan really wants is Taylor Martinez, a redshirt freshman in 2010. So what if Washington's new policy of only drafting seniors means they won't draft Martinez until 2014. I can wait.