Redskins Face Uphill Struggle Against Panthers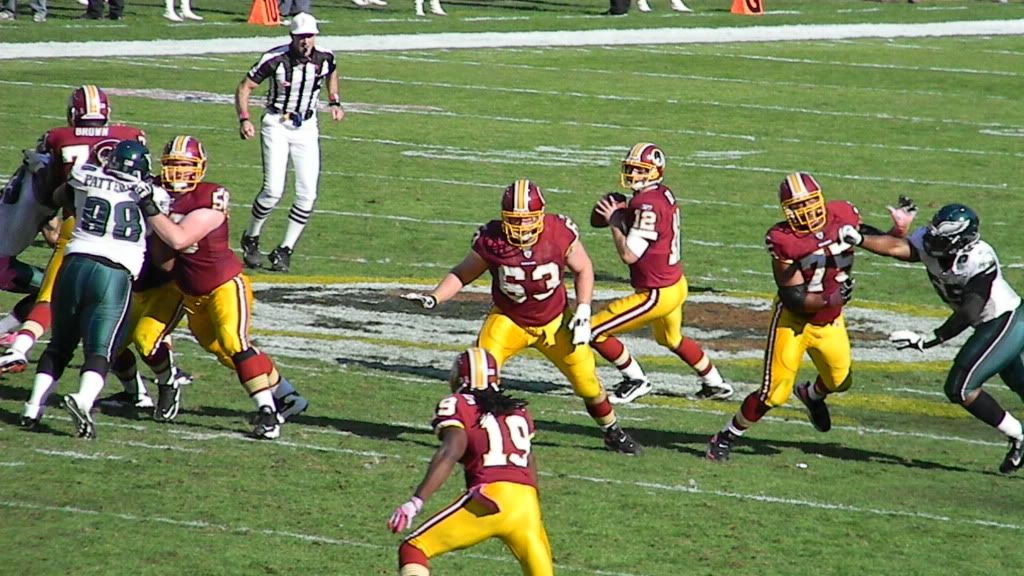 Sigh! AccuScore simulations predicted a Philadelphia Eagles win last weekend and I begged to differ with them The Eagles looked ripe for the plucking and the Washington Redskins looked primed to do it.
Alas, The Redskins embarrassed themselves and the bloggers who backed them.
People get so over the top on these things. Fans and maybe the coaches lay all the blame on Rex Grossman...because the quarterback is the beginning and end of everything in football [Sarcasm].
Grossman's performance was bad. The running game was worse. The fourth-quarter running defense was more worse both because the defense couldn't get to Michael Vick to get him off the field. The defense was on the field for 38 minutes. Turnovers hurt. So did a flat performance by the whole team.
Washington dropped to division second place with a 3-2 record. Bodog.eu projected the Redskins' preseason odds to take the NFC East at 100/1 and improved it to 35/1 going into the Eagles game. After the loss, they've raised the odds to 50/1.
AccuScore simulations run after the Eagles game now projects a one in five chance for the Redskins to make the playoffs. Here's their assessment of Washington's chances against the Carolina Panthers this weekend:
"The Carolina Panthers are a solid favorite with a 60% chance to beat the Washington Redskins (Bummer). Cam Newton is projected for 59 rushing yards and a 56% chance of having at least 1 rushing TD. In the 40% of simulations where Washington Redskins wins, John Beck averages 1.02 TD passes vs 0.67 interceptions, while in losses he has a ratio of 0.66 TDs to 1.16 interceptions. Ryan Torain averages 59 rushing yards and 0.6 rushing TDs when Washington Redskins wins and 37 yards and 0.23 TDs in losses. The Carolina Panthers has a 61% chance of forcing more turnovers than they commit. Positive turnover margin helps them win 79% of the time. SPREADS / TOTALS: Current Point Spread is CAR -1.5 --- Over/Under line is 44"
So, AccuScore thinks Carolina will win because they will force more turnovers than Washington even though their rookie sensation quarterback, Cam Newton, has 10 turnovers. Didn't Rex Grossman just get benched for that kind of stuff? But then, Newton has 15 touchdowns (6 games) while the 'Skins have nine touchdowns total (5 games).
"Now," Beck said, "it's on my shoulders to take care of the football," according to Dan Graziano's story on ESPN.com's NFC East Blog. Graziano quoted coach Mike Shanahan's warning to Beck, "If you keep on making those mistakes, you lose your job."
That's OK. neither Beck nor Grossman are playmaking clutch quarterbacks of your fantasy dreams. Beck does not have to win the game. His job is not to lose it.
My friends at Bodog.com to the rescue again --
WEEK 7 SPECIALS - John Beck - Total Passing Yards Week 7
Over/Under 225½
WEEK 7 SPECIALS - John Beck - Total TD Passes Week 7
Over 1½ (+145)
Under 1½ (-175)
WEEK 7 SPECIALS - John Beck - Total Interceptions Week 7
Over ½ (-200)
Under ½ (+160)
Usual disclaimer that betting lines are not true forecasts. It is the point at which a gambling house attracts an even pot on both sides of the line.
We are six games into the Cam Newton era. We know he is exciting. I look forward to seeing this game because of him. There is enough video of Newton to see his tendencies and game plan him. John Beck is restarting his rookie year. We do not know anything about him. For all we know Beck will run for more touchdowns than he passes.
Here's the real concern for Washington. We managed 44 net rushing yards against the Eagles. AccuScore simulations has Ryan Torain rushing for 58 yards against the Panthers. AccuScore did not cite Washington's O-line injuries as a factor. It is a real one. If they don't dominate, we don't run. If Torain or Tim Hightower runs for as few as 60 yards, then yes, Redskins lose.
After last Sunday, I will not beg to differ.
Point after: I would call this a trap game, but doubt the 'Skins are looking past the Panthers.

Bodog is a trusted source for information on major events worldwide. Bodog's odds on sports, pop culture, business and politics have been featured regularly by leading sports, news and entertainment publications.

AccuScore is a sports predictions and forecasting service that calculates the precise probability teams have of winning each game, their division, and making the playoffs. Visit AccuScore for expert predictions, picks, and odds for every NFL game.