When It Comes To Mike Shanahan and Quarterbacks, Actions Speak Louder Than Words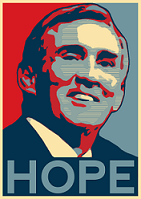 I rejoiced when Mike Shanahan came to Washington because I hoped to learn something new about building a winning football roster. It turns out that Shanahan is inscrutable if nothing else, especially when it comes to quarterback.
For example, Shanahan before the Draft said this about the quarterback class of 2011:
"This is deeper than most of the drafts that I've been in at the quarterback position. In fact, it's much deeper than I'm accustomed to since I've been in the National Football League."
Yet, Shanahan bypassed every opportunity to snag one of those quarterbacks. No action on Draft Day One spoke louder than the Redskins trading out of their tenth overall pick with Blaine Gabbert sitting right there in front of them. Thank you very much Jacksonville. You take the consensus No. 2 quarterback in this class; we'll take your draft picks.
What's going on here? The 2010 version of Shanahan would have grabbed Gabbert in a heartbeat, if, you know, he hadn't traded away valuable Draft picks for Donovan McNabb.
Redskins Hog Heaven readers already know our position that quarterback is not the most pressing need on this team. So I was delighted to see Washington devote the better part of this Draft on the building blocks pieces in this rebuilding program in every way but name. (Hey, the team won 10 games in the past two seasons. Why is "rebuilding" a dirty word?)
In trying to make sense of Shanny's recent comments about No. 2 quarterback John Beck, I revert to the Shanahan is inscrutable comment already noted.
You cannot tell what Mike Shanahan means by anything Mike Shanahan says.
Point after: Free agency limbo hasn't stopped quarterback trade rumors swirling about the Redskins. Well, 'tis the season for it. A story today on Football News Now describes speculation of a trade of Albert Haynesworth to Denver for Kyle Orton and supposed Redskins interest in everyone from Marc Bulger to Vince Young to Carson Palmer.
Hog Heaven's pre-Draft, pre-free agency, pre-any rational basis of thought prediction is a five-to-seven win season this year, no matter the quarterback and more so if McNabb is not under center. We can pick up a quarterback of the future in the next Draft after all the pieces are in place.

Worth reading: Matt Terl on Redskins.com - Looking at John Beck As a QB Prospect. Go take a look. We'll be here when you get back.

Have something to say about this story? Start the conversation with our new Comment System by Livefyre. Sign in with your Twitter or Facebook accouont.
Thank you for commenting, SkinDan. I'm not into conspiracies. (Oh, wait. Sometimes I am.) I do not believe that Shanallenhan intends to "throw' the season to four or five wins so much as making the most of a roster that's headed that way in any event.
There's no guarantee it will work. The roster might surprise and have a 10-win season (a boy can dream, can't he?) and ruin the next Draft. The target QB might not be there, or could be a bust. But restocking the front seven on defense and/or the offensive line is good draft strategy all the time.
With the exception of Cam Newton, more because he's an athletic freak than a skilled player, there was no quarterback in 2011 who was better than anyone coming out in 2012. When your strategic horizon is over three seasons, you can make those trade-offs and build a roster that will contend over the next five seasons.
Come back, ya' hear.
Good succinct piece Mr. Brown (unfortunately I will not be!), couldn't agree with you more about Shanahan being "inscrutable". I have a very aberrant theory: Shanahan wants to have a poor season next year, and a high draft pick in the 2012 draft thus making it easier to get to Mr. Luck or perhaps even Landry Jones (personal preference of mine, he seems like the quintessential bootleg QB). It demonstrable that Shanahan/FO has succumb to the idea of "rebuilding" and abandoned the "win now" attitude. If they are in rebuilding mode then they don't expect to contend, so if your going to lose than you may as well lose bad to win big in the draft. To digress a little further, the worst team in the league (imo) at the end of the year is not the team with the worst record it is the team with the highest win total but failed to make the PO's thus leaving them with no accolades and the worst draft position (out of all the teams that did not make the PO's). I'm sure I sound off my hinge and this all sounds a bit crazy, and smells like a conspiracy theory, but its not impossible (see LeBron James and Cleveland Cavaliers). A deeper look shows it is not out of the Redskins capabilities to do such a thing. When the Redskins were mathematically eliminated from the PO's they benched McNabb to "evaluate" Rex Grossman; Rex had a greater chance of losing while maintaining the facade that they were still trying to win. This is all based on the hypothetical situation where John Beck is the Redskins starting 2011 QB. But as you insinuated its never as it seems when it comes to Mike Shanahan, he never tips his hand and will only harp on the cards he presently holds. Its more than likely that Rex Grossman will be back as a Redskin and will be the 2011 holdover at QB, as he was taking turns running the offense (along with John Beck) at the Player-only workout held on April 19th. But either way with Rex Grossman or John Beck at the helm, this team is destined for great failure, which in my book is A-OK if we land a Sam Bradford, Matt Ryan, Joe Flacco, or a Matt Stafford that has the potential step in immediatley and deliver us from mediocrity and carry us into greatness for the next decade.